Do you want to buy a new house? A house is definitely an investment and can come to your use in times of crisis. But you should also know that buying a house comes with its own risks and challenges. You need to arrange for some sort of compensation if you want to buy a house. What you need to do is buy a home insurance policy. We, at Bi-county Insurance, can be the right solution for you. We are an established and reliable company which has been in this field for more than 40 years now. We are also an independent insurance agency which means you can get several career options from us. We bring you a wide range of insurance policies, starting with home, life, and business insurance to even farm, and automobile insurance policies. We are known for our variety of insurance policies under the same roof along with our highly dedicated and professional services. So, if you are located in areas like Burlington, IA, Oquawka, IL, Stronghurst, IL, Monmouth, IL, Galesburg, or Biggsville, then you can opt for us.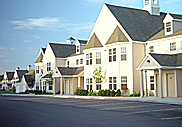 Here, we have put together a few questions to ask a company offering new home insurance policies. Take a look.
What sort of coverage are you offering?
Before knowing about the coverage benefits, you should never choose the right insurance policy. You have to make sure that all the potential losses you are likely to face because of buying a house are all covered in this policy. That is why you should ask about the coverage details before making a choice.
Can you provide free quotes for the premiums?
If you can get an estimated rate for the premiums, it will be easier for you to understand if the company you're choosing is an affordable choice or not. That is why you have to ask the company to provide you with free quotes. You may also try to compare these with others and then choose the one that seems most appropriate for you.
So, after getting these answers, if you are thinking of choosing us, contact us today.