Our house is a place that should make us feel safe. It should be the place where we come back to at the end of the day to unwind and relax. We, at Bi-County Insurance, help you get an enhanced feeling of safety by bringing to you our affordable range of home insurance policies. We combine scientific methodologies with a personal touch to provide you with policies that aim to meet your needs. We calculate premiums based on the area and location of your house as well as your income and ability to pay it. Our agents are available round the clock to answer all your queries. It is their commitment to your safety that has allowed us to reach extraordinary heights. We have been in business since 1985, using the expertise and experience of our employees, our agents, and our office staff to serve and earn the trust of our customers. If you live anywhere in the areas of Biggsville, Burlington IA, Galesburg, Monmouth IL, Oquawka IL, or Stronghurst IL, then we are the company to come to.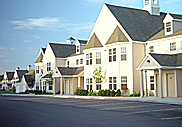 Here, we have listed 4 points to consider when buying a policy to protect your house. Take a look.
Coverage for Dwelling Unit and Perimeter
Make sure that the policy covers both your dwelling unit and the area around it which could be a garden or a lawn attached to your house.
Coverage for Personal Items
Certain policies have an in-built package of protection to personal artifacts like rare paintings, expensive jewelry, and unique items. If your house has such items, it will be a wise decision to get protection for them as well.
Market-Competitive Premiums
Before finalizing the policy type, do thorough research into the current premium rates existing in the market. This will allow you to save on the premium amount.
Check the settlement records of the company before buying from them to reduce your settlement hassles. This will be highly beneficial in the face of a crisis.
So, give us a call at 888-264-4087, immediately, for our effective packages.