Are you the proud homeowner of your lovely mansion? Or do you like the cozy comfort of your small apartment? Whatever kind of home you own, it does not change the fact that you are a homeowner and must protect yourself from all the potential damages and losses you could face because of your house. This is the reason home insurance is so essential these days. We, at Bi-County Insurance, can be the right choice for your home insurance needs. We are a reputable and experienced company which has an overall 100 years in this field. We bring a wide variety of insurance programs, right from commercial, auto, long-term care, to farm, life, and home insurance program. We are known for our high-quality coverage options and low premium rates. With our variety of insurance programs and customer-oriented approach, we have become a preferred insurance company for your needs. So, if you belong to areas like Burlington IA, Stronghurst IL, Oquawka IL, Monmouth IL, Galesburg, and Biggsville, then you must choose us.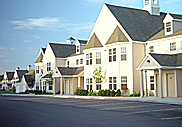 Here, we have put together a list of questions that you must ask a company offering you home insurance policies. Take a look.
What kind of protection can your insurance policies offer?
You should always make sure that the coverage you are choosing offers the right sort of protection against all the losses you could be making for your house. That is why you should ask about the details of the coverage and see if it is beneficial for you.
Do you provide free quotes for the insurance programs?
You must have a set budget in mind before choosing your home insurance programs. In order to ensure if it is suitable for your budget, you must take quotes from insurance companies and check if it is affordable. Therefore, ask the company if one can offer free quotes for your home insurance policy.
And if you are interested in our home insurance programs, then contact us today.